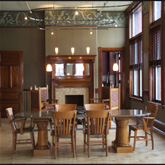 program schedule:
wednesdays from
march 3rd - april 21st,
5:30 p.m. - 8:00 p.m.

program schedule:
wednesdays from
march 3rd - april 21st,
5:30 p.m. - 8:00 p.m.
class requirement: maximum of 15 participants
cost: $895
(includes assessment
resources, text, workbook,
cd, and one 1-hour,
private coaching session).
payment method:
check or paypal
convenient location:
the landmark building,
142 main street, 4th floor,
suite 401, nashua, nh
ample, free parking.
are you content and happy with your life?
do you usually feel that you have all the time you need for the things that are important?
do you have a strong sense of who you are?
are you happy with your job or career path?
are you easily ruffled by change or uncertainty?
if one or more of the above questions touches an area in your life that you
want to change the executive women in transition program may be right for you. this 8-week program is uniquely designed to help you find your life purpose, to gain a more meaningful relationship with yourself and experience more fulfillment in your life, career and relationships.
this multi-pronged program utilizes a proven blend of balancing act methodologies, individual and group coaching, customized tools and interactive exercises. the purpose of the program is to help you navigate transition and actualize the kind of changes you want to experience in your life. it also provides you with a set of tools that can be used throughout your lifetime.
to gain the greatest benefit, the program is limited to 15 participants. the classroom training is spread over 8 weeks, each session is 2.5 hours. weekly assignments are required to assimilate the course materials. each participate will be asked to complete a confidential, personal balance profile prior to the first class and upon completion of the course. the course materials are tailored to support sustainable learning. in addition to the classroom hours, each student will receive a private, 1-hour coaching session.
to register send your name, address, telephone number and email address
to patricia fox: pat@patfoxconsulting.com or call 978-685-9639.
mail checks to: patricia fox, 4 alcott way, north andover, ma 01845